The toolkit includes five mind-expanding packs designed to boost product circularity by aiding the development of products and services fit for circular consumption. The five tools are suitable to use in the early phases of a design process as a user-centered lens through which you can explore opportunities for product circularity.
The Use2Use Design Toolkit includes: the Use2Use Thinking Activation Pack, the Circular Journeys Exploration Pack, the Multiple Use-Cycles Exploration Pack, the Circular Designs Ideation Pack, and the Circular Designs Evaluation Pack. Together the tools cover elicitation of user needs, specification of design challenges, concept generation and evaluation.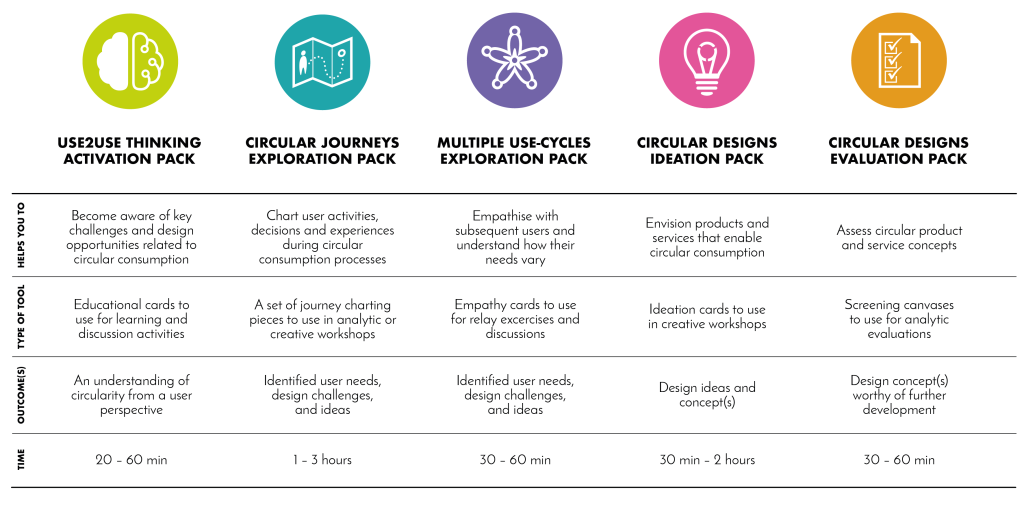 How do you use the tools?
The toolkit does not prescribe a particular design process; the tools can be used in any order, consecutively but also independently of each other. There is no right or wrong way to use the tools. We hence encourage that you explore different ways of using the tools to find out what is meaningful for you. We have found that it may prove beneficial to use the tools iteratively for different purposes in different stages of the design process. They can be used for short inspirational sessions, in-depth analyses, or as checklists of things to consider. You can also try to combine the tools or use them together with other tools you normally use. 
Depending on your project and scope, some of the tools will be more meaningful to use than others. Similarly, when using one of the tools, you may also need to prioritise which cards, questions, or other content to consider. Since the tools have been developed to be useful for a variety of cases, all the content will most likely not be relevant for your specific case.
Who should take part?
You can use the toolkit to boost design work either through solitary or collaborative sessions. When using it with your team or your clients it is usually beneficial to invite a mix of competencies to take part in the sessions, e.g. designers, business strategists, user researchers, technical specialists, and product and service managers. You can also use the tools together with future users of the products and services you are developing to mediate user studies or facilitate co-design sessions. We have found that anyone can make use of the tools since they do not require an in-depth knowledge about circularity or user-centered design.
B2C, B2B, or C2C?
The tools and their content (text, examples, and trigger questions) are most often phrased with private individuals in mind (as users). But the tools work for other types of users as well. The users of the products and services you are designing could also be, say, businesses, professional users or households. The tools can hence be used in Business to Consumer (B2C), Business to Business (B2B) and Consumer to Consumer (C2C) settings. When working with some cases, the content might however need some interpretation if the user is not a private individual. To make the toolkit work even better for you, feel free to interpret the content and use the tools in any way that is useful for your case!
The Use2Use Design Toolkit is free for anyone to use and you can access the tools in a number of ways. Before using the tools, we recommend that you review our terms of use that clarify how you and your organisation may use the tools.